General terms and conditions of business
The booking process
If you wish to book our apartment or guestroom, you first have to send us a booking enquiry. This can be done most easily through this homepage by using the booking form online or also by e-mail, by fax or by letter or over the telephone.

Once we have received your booking enquiry we will check whether the apart- ment is available within the period that you wish to stay there and then we will calculate the price for your booking enquiry and you will first get from us a non-binding quotation.

If you wish to accept this quotation, you first have to complete all your other booking data (such as name, address) accurate, if you don't specify it so far. Then you must either confirm this booking as quickly as possible in writing (by fax or letter) or else pay a deposit amounting to at least 50% of the quoted price by bank transfer to the bank account named in the quotation. Guests from outside Germany must pay a deposit amounting to at least 50% of the quoted price and must transfer the full amount at least one month in advance. A bank transfer implies your written confirmation of the booking.

In both cases you will get a binding order confirmation in writing from us. That completes the booking process and a legally valid contact has been produced as a result.

Cancellation / change of booking
If due to unforeseen circumstances you have to cancel your stay or change the dates of the booking, we are legally entitled to claim for compensation due to non-fulfillment. This is based on the time between the cancellation and the day of arrival in accordance with the following table:
more than 4 months beforehand 20 € lump sum
up to 3 months beforehand 10% (min. 30 €)
up to 2 months beforehand 30%
up to 1 month beforehand 50%
up to 14 days beforehand 80%
less than 14 days beforehand 100% of the booking price
If the apartment can be rented out again within the period that had originally been booked and for the same terms and conditions, then no cancellation charges are due for those days. If it can only be rented out again for lower terms and conditions, then instead of the booking price the price difference will be taken to a basis for those days. In both cases there is a minimum charge of 30 €.

Changing the booking to a shorter period or for fewer persons will be charged in the same way as for a cancellation. If the period of the booking and the number of persons remains the same, then only a minimum charge amounting to 30 € is due. It is only possible to rebook the same booking twice. After that it will be regarded as a cancellation.

Discounts
There are the following discounts for long-term bookings and frequent customers:
Level 1 from 1 week = 20%, 2 from 2 weeks = 30%, 3 from 3 weeks = 40%
Level 4 from 1 month = 50%, 5 from 2 months = 55%, 6 from 3 months = 60%

The discounts can not be given during major trade fairs and major events.

The amount of time required for the relevant discount level can be spread over multiple stays but must be taken within a period of up to 2 years. The contract- ual partner can specify the start of this at any time, even retrospectively. If it is to be determined retrospectively, then no retrospective discount is given for earlier stays, although those days count towards qualifying for discount levels. The discount levels relate to the contractual partner and not to the actual guest in question. In the case of bookings for a subsequent two-year period the percentage rate that had been attained in the previous period shall always apply and this is always calculated on the basis of the number of days stayed within the previous two-year period. The discounts can only be given if the required lengths of stay have been part of a fixed booking within the two-year period in the meaning of the above and hence not for reservations. In the event of cancellations that have an effect on the discount granted on other bookings, then any discount that had been granted must be paid back as well in addition to the cancellation charge.

Trade fair supplements
A supplement amounting to 20% of the base price will be added to the relevant base price for days in which trade fairs are held in Düsseldorf. This supplement amount to 50% for days in which there are major trade fairs or major events.

During major trade fairs fixed prices are valid, whose computation based on:
Full allocation, minimum guest-nights = length of the trade fair + 2 nights, no discounts. That means independent of the real number of persons or length of stay the aforementioned data are used for the computation of the fixed price.

Currently the following trade fairs are regarded as major trade fairs in the meaning of the above: Drupa, Interpack, K, Medica and ProWein. You can find the dates of these and all other trade fairs here at Trade fair dates - Düsseldorf. Major events are exceptionally happenings like song contest or World Cup and will be determine individual. We also have to charge this supplement to guests who not visiting the trade fairs or events.

Other
General Check in from 14.00 / Check out up to 12.00
Other times on request. In all cases it is highly advisable that you inform us of the dates of your arrival and departure as soon as you know them.

If you have not yet transferred the full amount for your booking by the day of your arrival, then you must pay the rest in cash when you get the key.

Please note: The price includes only an end cleaning. Intermediate cleanings or a change of bed linen and towels are only possible for an extra charge. If you stay for a longer period you can do this work by yourself. The required equip- ment is available in the apartment. Clothes washer and laundry dryer are also available in the laundry room in the cellar.

Any items that are missing or damaged, or damage to the furnishings and fittings and/or the apartment entail payment of the full amount of the damage including reasonable and appropriate amounts for replacing with new.

The place of jurisdiction is Düsseldorf in case of possible conflicts.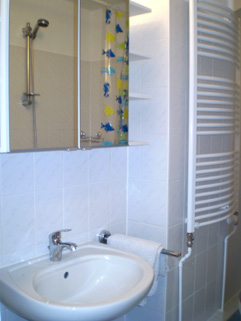 Private trade fair apartment
furnished apartment
Guest room holiday apartment
with bicycle rental in Düsseldorf

More space and more independence
Your alternative to a hotel